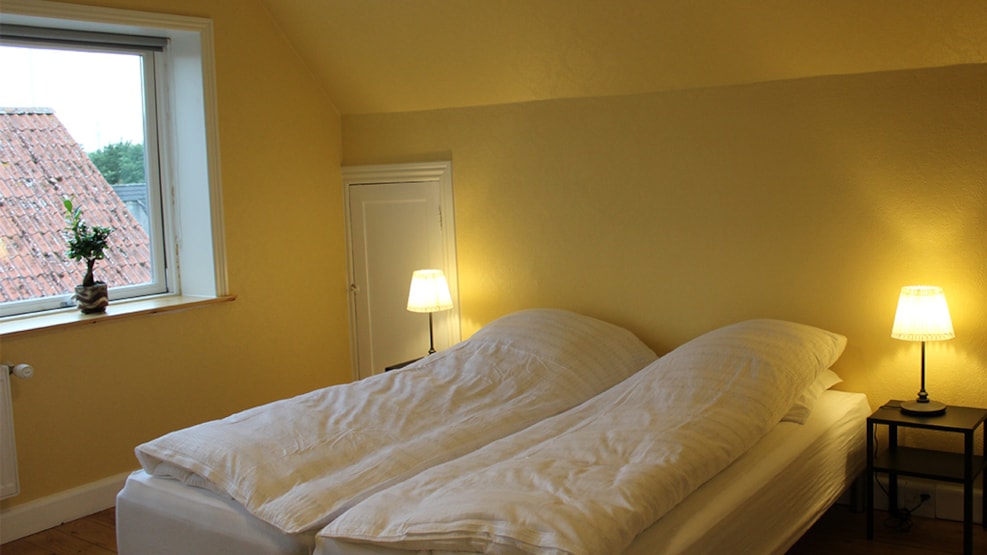 Lintrup Bed and Breakfast
In the best seaside hotel style, you find 7 newly renovated rooms at Lintrup Kro Bed and breakfast.
Lindtrup is situated just south of the Kongeåen in the middle of the upper part of Sønderjylland/Southern Jutland and is an active village with a quiet environment and short distances to cities such as Rødding, Ribe, Haderslev, and Vejen. 
Lintrup Kro Bed and Breakfast is at the first floor of the earlier village inn and all 7 rooms are decorated in different ways and colour tones. There are 2 toilets and bathrooms to share, a small common kitchenette and living room. You can expect a quiet place as the inn does not have parties any longer. Linen and towels are included in the price for the overnight stay and if you wish breakfast – or rather – the large breakfast table, you can order this the day before and the price is DKK 75 per person. 
Anita, who is the host of the place, attach great importance to your feeling welcome. Anita and her husband have managed the redecoration and renovation of the place themselves. 
Lintrup is an active village with many memorials of the time when the area was under German control, which was from 1864 to 1920. A couple of houses from the inn the reunion memorial stone is located and the church on the opposite contains memorials as well. Lindtrup is situated close to the Kongeåen, where you find the Kongeå Path and the Anti-Tank Trench, which is located in an area of extremely scenic beauty. On the opposite side of the inn you find the activity centre of the village, where there is a large out-door playground.