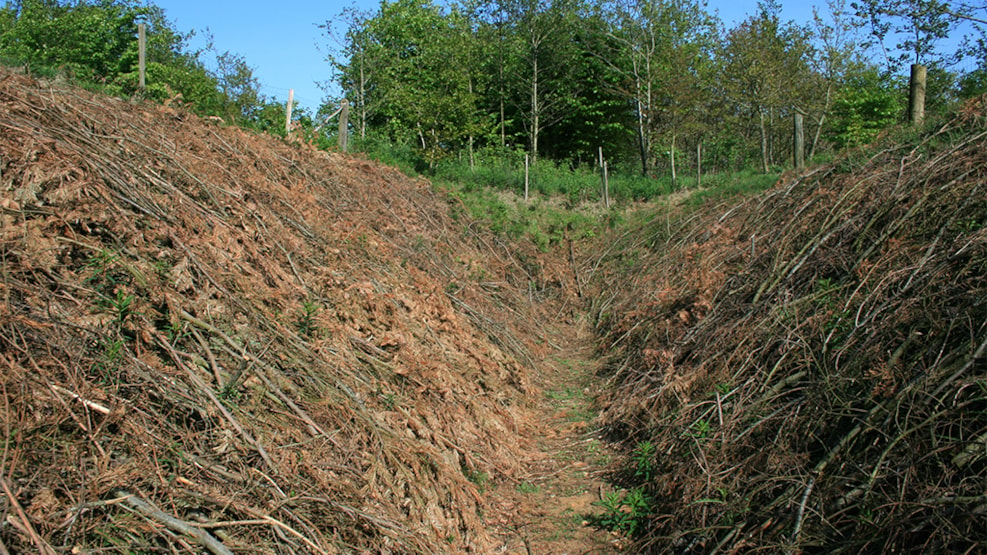 Anti-tank trench in Lintrup
The anti-tank trench in Lintrup is a reconstruction showing how the approx. 255 km long Gudrunstilling (fortification system) from World War II looked. Next to the anti-tank trench, you find a magnificent natural resort with constructed lakes and cosy cabins inviting for a picnic – you are free to use the cabins.
Towards the end of World War II, Germany feared an attack from the north. Therefore, in 1944, three barrage positions across the southern part of Jutland were built, meaning to stop the advance of the enemy. All the barrage positions were named after the Norse mythology. Along Kongeåen from Kolding to Ribe, Gudrunstillingen was built. Here, the landscape was suitable for defence as the view to the north was spacious and the fortification system could be built in the southern cliff of the river valley.
After the landing of the allied troops in Normandy, Hitler commanded the fortification system to be extended with a system of anti-tank trenches, as it had turned out that the coastal protection had not stopped the enemy. The anti-tank trench was built with shovels and barrows and the locals had to assist in the transport of material. Large quantities of wood were to be used – these were confiscated in the local woods. The anti-tank trench was approx. 4 m deep, 2-3 m wide at the bottom, and 5-6 m wide at the top. This resulted in rather steep sides, making it impossible for vehicles to cross the trench.
After World War II, the Danish state had the German fortification system removed. A few years ago, the anti-tank trench at Lintrup was reconstructed.