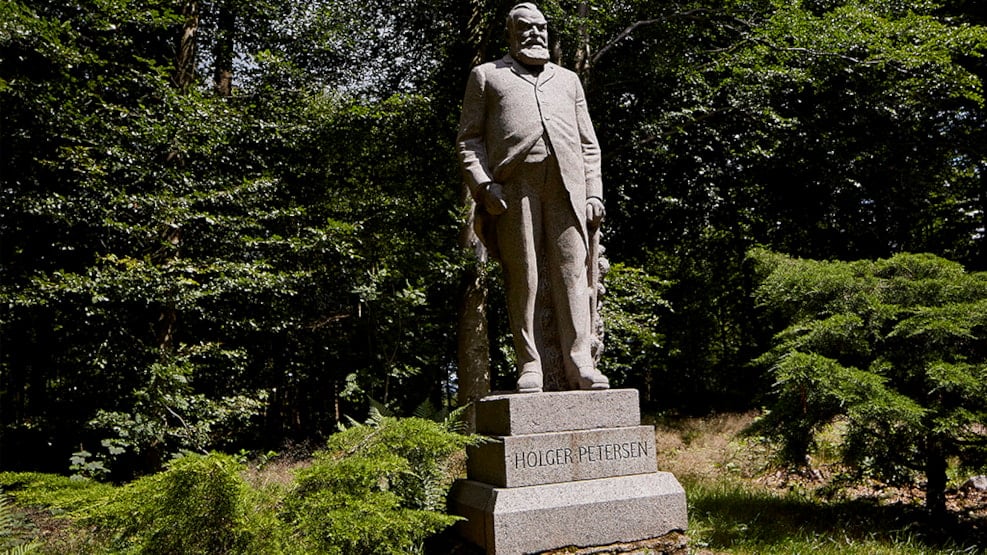 Baldersbæk og Villa Baldersbæk
The natural resort around the country seat Baldersbæk tells the story of Københavnerplantagerne (Copenhagener plantations), their owners and the view on nature at the beginning of the 20th century. Here you find original sandstone statues from Børsen (old building in Copenhagen), luxuriant carp ponds and a minor castle – in stark contrast to the once so poor heath plane.
The area around Villa Baldersbæk was restored in 2013-2014 making it possible to experience the many details of the place at short range. If you follow the marked path you will meet Treherredsstenen, the dolmen, the ice cellars, the carp ponds and the fountain "Den lumske Dreng" (the insidious boy) – the boy cannot keep tight and you start the squirt by stepping on the step. The fountain is on operation in the summer.
"The castle" – so the villa at Baldersbæk is called – was patterned on Frederiksdal Slot when it was built. There is no public admittance to the villa, but it is possible to get rather close to it. The private area is marked clearly. The villa is still used for habitation.
The history
Baldersbæk Plantage (the plantation) is the biggest of the Københavnerplantager in the area of Hovborg. In the year of 1900, approximately, wealthy Copenhageners together with Hedeselskabet (an association with the status of a business foundation) landscaped a number of plantations on the Jutlandic heath. Their motives were to make an effort for their mother country, to create jobs and to change cultural landscape – and, finally, to get a number of amenity values for themselves. Baldersbæk was landscaped by merchant Holger Petersen who invested both money and energy in the planting of the heath around Hovborg. In the year of 1891 he bought a decayed heath farm and 625 "tønder" (about 850 acres) of land. Here he landscaped Baldersbæk Plantage and built Villa Baldersbæk and in the year of 1910 the gardens and the natural grounds were planned.
The plantation is more varied than most other West Jutlandic plantations. You find quite a lot of birch trees as well as stretches of oaks. The oaks have become twisted due to trimming in earlier days.
Practical information:
Parking on the parking space on Baldersbækvej opposite the gardens. Here you find tables and benches and information boards. The marked path starts here. The area is well-provided with boards with QR codes enabling you to gather more information by your smartphone. There is special information for children.