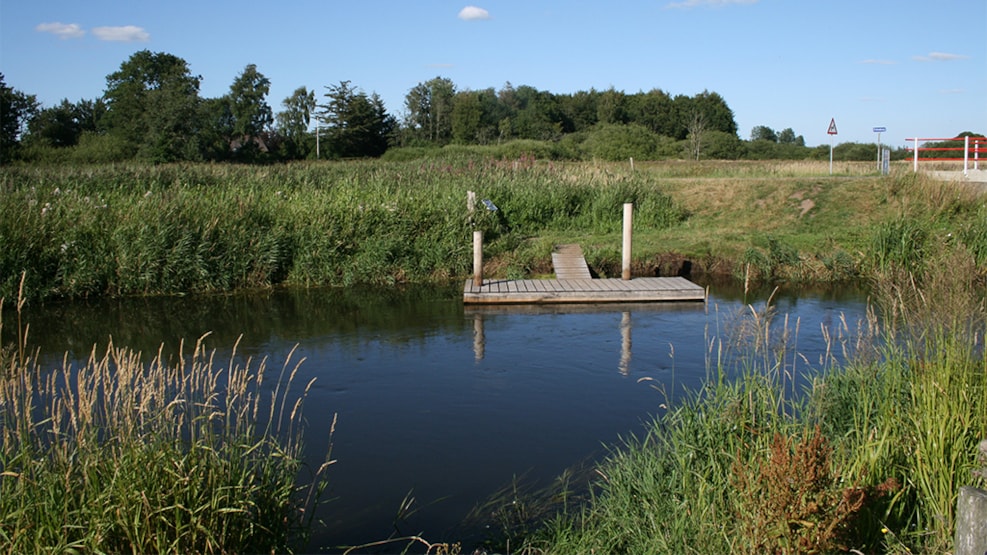 Bathing place at Kongeåen, Frihedsbroen
At the northern side of Kongeåen and on the western side of Frihedsbroen is a bridge where canoes can be lowered into the water.
On this bridge a bathing bridge staircase/latter is mounted which can be used all year for a swim in the stream. You can do this all year – as summer or winter bather.
Bathing in Kongeåen is at your own responsibility. The water quality is not checked and there are no upstream discharges. Also, you should be aware that the water level in Kongeåen may vary rather much. The stream collects rainwater from a large area and at times the depth in the stream can be up to 1.5 m – and in dry periods the water level may be only half a meter. Likewise, the currents vary from day to day – even at the same location – and it can be rather demanding to swim against the tide.
You cannot be sure to have the stream on your own. Often guests visit the shelter place just south of the stream, traffic is passing on the Frihedsbroen, anglers along the steep bank and hikers on the Hærvejsruten (ancient military route) and the Kongeåstien (Kongeå path).
At the location you will find warning signs and lifebuoy.
You can park your car or bike at the shelter place just south of the Kongeåen, alternatively there is a parking area with grass on the eastern side of Frihedsvej a little south of Frihedsbroen.
There are waste bins, toilet and water tap at the shelter place just south of the stream. Here you also find bench and table sets and Internet access.