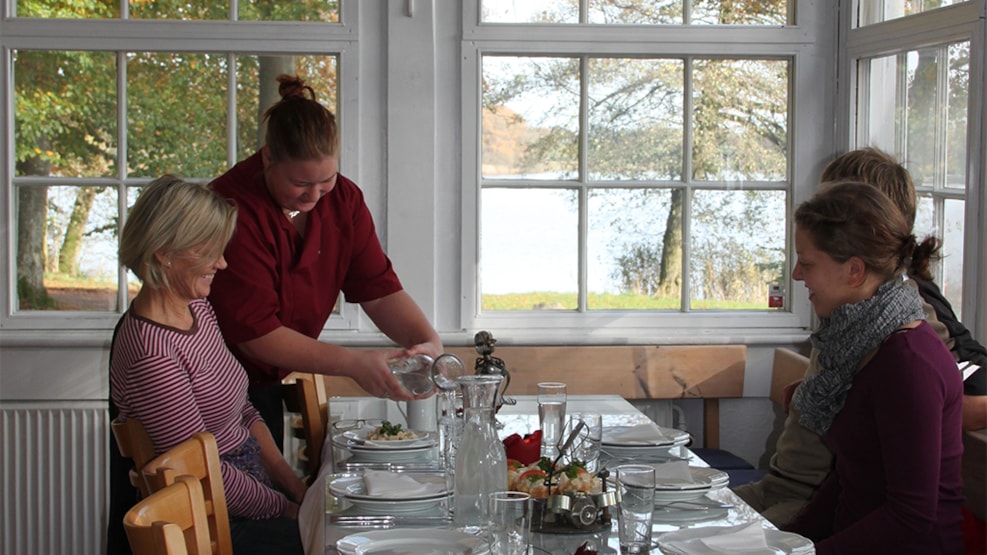 The café at Jels Voldsted
The café at Jels Voldsted is beautifully situated in a scenic area in the forest by Jels Midtsø. The rooms are bright and offer stunning views of the lake, making the café the perfect setting for a lunch or coffee break. The old restaurant is a very charming and atmospheric place.
The café is run by students and staff from Troldkærskolen, which is a housing, employment and training centre for young people aged 17-25 with special needs. The café is a daily workshop where students enjoy almost real-world training and work situations. The young are given responsibility and the opportunity to improve their skills in all facets of the operation of a café, i.e. kitchen work, service, maintenance, etc.
On weekdays, we serve dishes from our menu as well as coffee and cake. On Sundays, we serve coffee and a cake buffet. Please note that the café can be closed for private functions.
In addition to the regular opening hours, we also hold various events in the café and in the forest. We host a motorbike and vintage automobile show as well as other heritage and nature specific open-air events. To view recent events, please visit our website www.jelsvoldsted.dk

You can purchase fishing permits for the lakes of Jels in the café during opening hours.
Distance
Hiking route The Ancient Road Hærvejen 2,3 km
Cycling route The Ancient Road Hærvejen 3,2 km