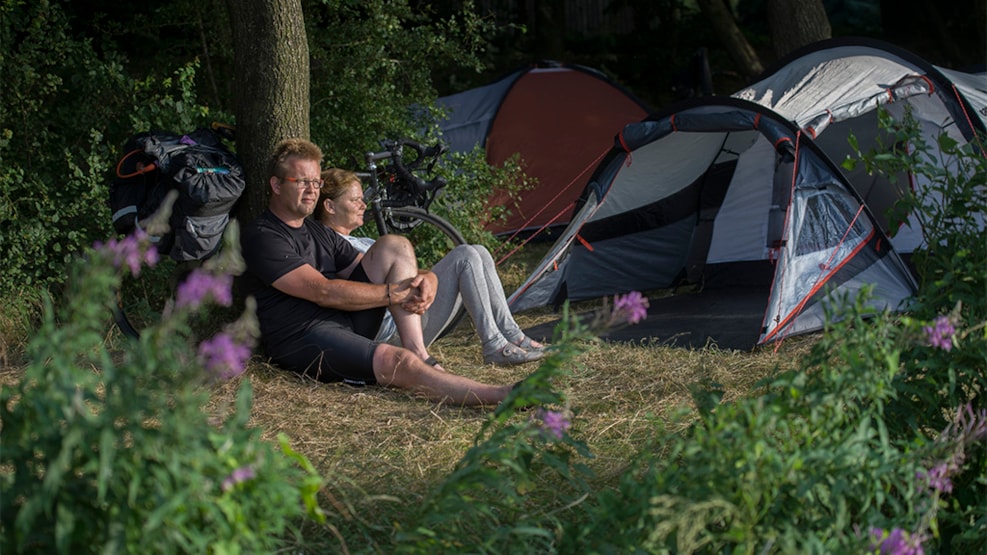 Campsite, Frihedsbroen, Københoved
The campsite by Frihedsbroen (Freedom Bridge) is located by the southern banks of the river of Kongeåen at the intersection by Frihedsvej. The hiking and cycling routes along the Ancient Road, Route 3, pass the campsite.
There are 3-4 small grassy openings in the woods where you can pitch your tent. Here there are tables and benches. From the campsite you have a clear view of the river valley of Kongeådalen as well as the river itself as it meanders close by, just 40 meters from the campsite. There is usually a great sunset view and you can be absolutely sure to sleep with musical accompaniment from the nightingales.
In the summer months, the picnic area between the campsite and the tarmac road is a popular destination for the area's residents, also on weekday evenings.
If you canoe down the river of Kongeåen you can drag your canoes onto dry land by the northern banks of the river.
The campsite includes a campfire site, water and closet. The site is not suitable for wheelchair users or the disabled. There are two shelters.
The campsite is owned by Vejen Municipality.
Distance
Hiking route The Ancient Road Hærvejen 0 km
Cycling route The Ancient Road Hærvejen 0 km