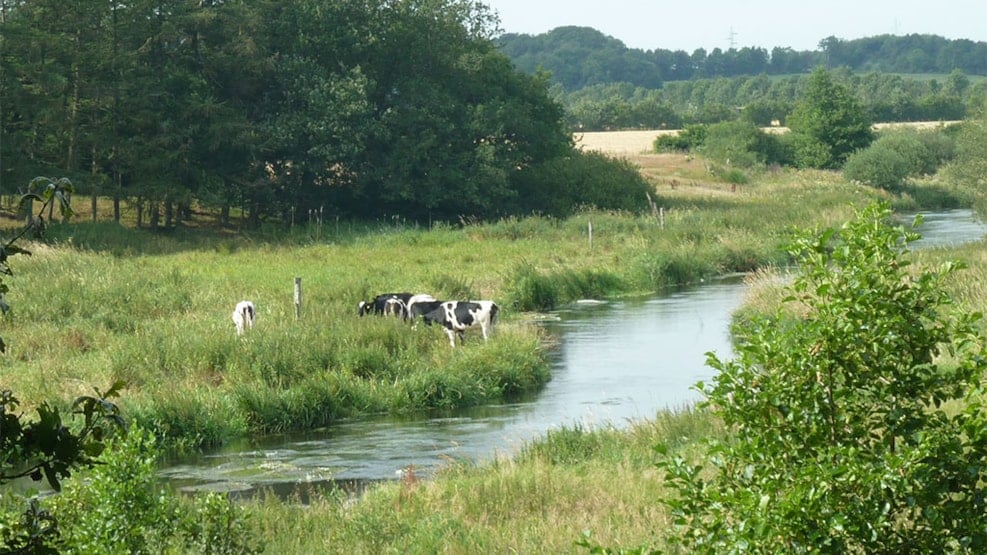 Canoe trips on Kongeåen
Take a canoe trip on Kongeåen – a very special experience
You follow the historical border between Denmark and Schleswig in scenic surroundings, unique in Denmark. At the first part of the route, the stream is narrow, but later on, the valley spreads and you sail through open fields and meadows. The flow of Kongeåen has not been regulated.
The total sailable stretch amounts to 50 km, a trip of 2 or 3 days. Smaller trips at 4 to 15 km are also available.
Distances: 
Andst Bro - Vejen Fodboldgolf: 4,8 km
Vejen Fodboldgolf - Frihedsbroen: 3,8 km
Frihedsbroen - Foldingbro: 8,5 km
Foldingbro - Nielsby: 4,6 km
Nielsby - Villebøl: 7 km
Practical information:
You find places to put the canoe into the water and to land it at: Andst Bro, Frihedsbroen, Foldingbro, Nielsby, Villebøl, in Vilslev and at Kongeåslusen. Often, facilities as tables and benches, drinking water, toilets and parking space are also available at these places. Please find further details and practical information about the trip in leaflets printed on water-resistant paper to be found in boxes by Kongeåen. Furthermore, the app "Kongeåstien" gives you a lot of information about what you pass on your trip. By using the app "PdfMaps" it is possible to download the map to your mobile phone.