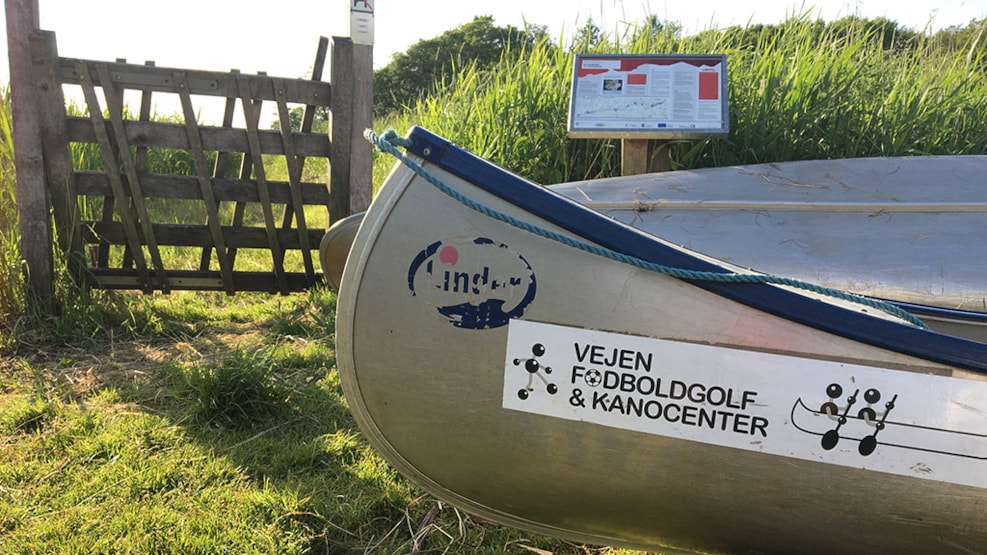 Combine Hiking and canoing - The Ancient Road and Kongeåen
Combine your hiking on the Ancient Road (Hærvejen) with a trip along one of the other old main arteries of Jutland across the country: Kongeåen.
From The Freedom Bridge (Frihedsbroen), where Hærvejen crosses the stream Kongeåen, you can canoe down the Kongeå still having its natural course and which was once upon a time the national border between Denmark and Germany. The 8.3 km tour ends in Foldingbro, a location which was earlier a central crossover point. When arriving in Foldingbro, take a break and experience the characteristic arrangement of the location where there were two of many buildings – one on each side of the national border. The trip back to route of Hærvejen near the Frihedsbroen could be along the Kongeå path, where the path runs close to the stream. It is a 8.9 km trip and normally takes 2.5 hours of walking. In case the water level of the Kongeåen is too high for walking on the path, an alternative would be a tour along the not very trafficked asphalt roads back to the Frihedsbroen or use Flextrafik, which is a special taxi arrangement. This route is primarily along Københovedvej. You can only sail from the Frihedsbroen to Foldingbro not the other way. 
Practical information
Well in advance, you should order canoes at Vejen Fodboldgolf og Kanocenter.