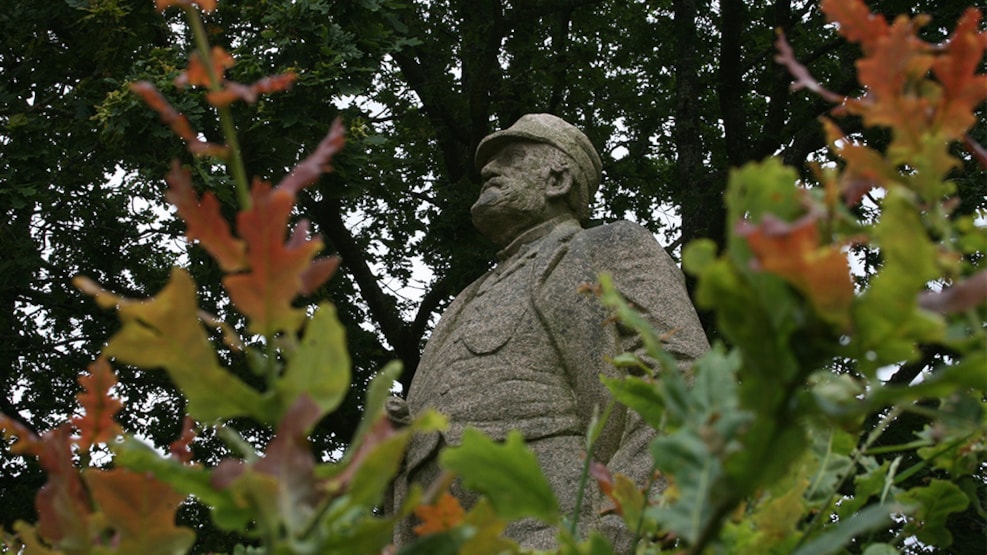 The Dalgas Statue, Hovborg
Chiselled in granite, Dalgas looks out from his mound over the heath landscape, which he made his life's work to plant with trees. Without him, the area around Hovborg would not have had the large plantations and wooded areas that provide shelter today.
Enrico Mylius Dalgas was born in 1928 and spent his childhood in Italy. After his father died, his mother travelled back to Denmark. Dalgas was educated as a military engineer and was later on employed by the road authority, when the possibility of planting trees on the heath captured his imagination. During the second half of the 19th century, West Jutland, and therefore almost all of the area around Hovborg, was heathland. In 1866, Dalgas co-founded the society Det Danske Hedeselskab and in 1877 bought the heath farm Lundgård, which later became Høllund Søgård, with the aim of creating a plantation. Høllund Søgård, which today is privately owned, is situated next to the statue.
Holger Petersen from Baldersbæk, west of Hovborg, who was good friends with Dalgas, arranged for a statue of him to be erected to celebrate the heath society's 50th anniversary in 1916. The sculptor Anders Bundgaard made the statue.
Cycle along the road and follow the path beside the oak trees up to the statue, which stands on a mound. There are tables and benches, where you can enjoy your coffee and a magnificent view over the valley of the river Holme Å. 
Distance
Hovborg town center: 4,4 km