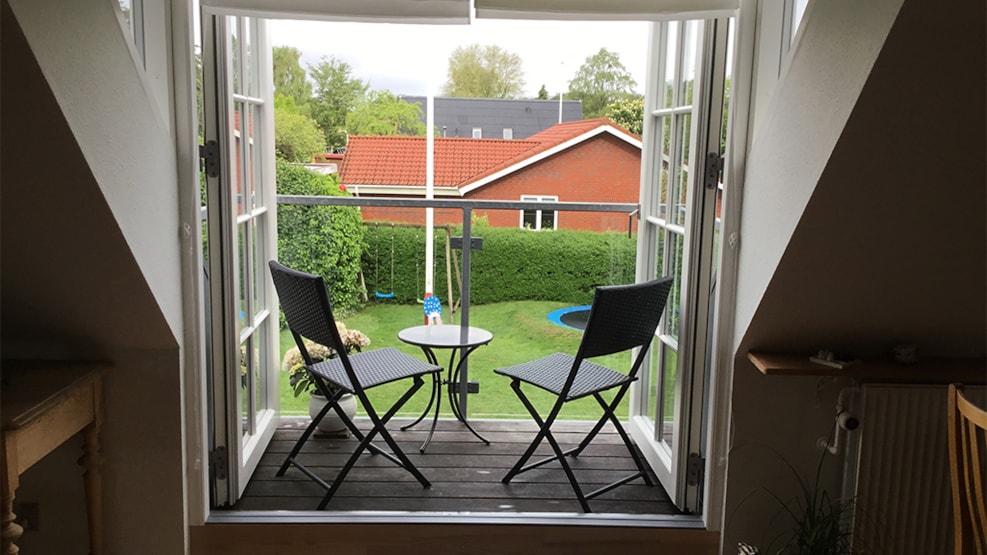 Glejbjerg Bed and Breakfast, v John Kristensen
Located in the village with the "loveliest neighbors" is Glejbjerg Bed & Breakfast, run by John Kristensen. The Bed & Breakfast is placed at the end of a nice and quiet street. Through a separate entrance and up a staircase leading up the first floor you will find the rooms.
Glejberg is a village located in the middle of all of the cities of Billund, Grindsted, Vejen, Esbjerg and Ribe. Near to Glejbjerg there are forest, lakes and good hiking paths.
The Bed & Breakfast has two double bedrooms, which has a shared bathroom and common room, which connects the bedrooms. There is a kitchenette so that there is the opportunity to make tea and coffee, and in addition, there is a small fridge. From the common room, there is access to a balcony where you can enjoy the view over the neat garden.

If you fancy making a bonfire and maybe making pancakes over the fire then that is possible. Please arrange with the owner before starting the project.
In the garden, you can also find a trampoline and a set of swings, which is free to use.
The garden also has many cozy corners where you can sit and have a chat or read a book, for example in the tiny orangery or the pavilion on the porch.  
You can do your shopping in the supermarket 400 meters from the Bed & Breakfast.
Price:
A room cost 450 DKK per night, for one or two persons.
A madras on the floor with bedcovers cost 100 DKK per night per person.
Children under the age of 2 years old are free of charge. In addition, a travel bed can be borrowed.
Pets are not allowed in the rooms.
Breakfast can be ordered at the prize of 75 DKK per person.
There is free parking space available next to the house.
Other informations:
Arrival time should be scheduled to the time between 16:00-18:00, unless other agreements have been made.
The room is available until 10:00 on the departure date.
No smoking is allowed inside the house, but it is allowed to smoke outside.