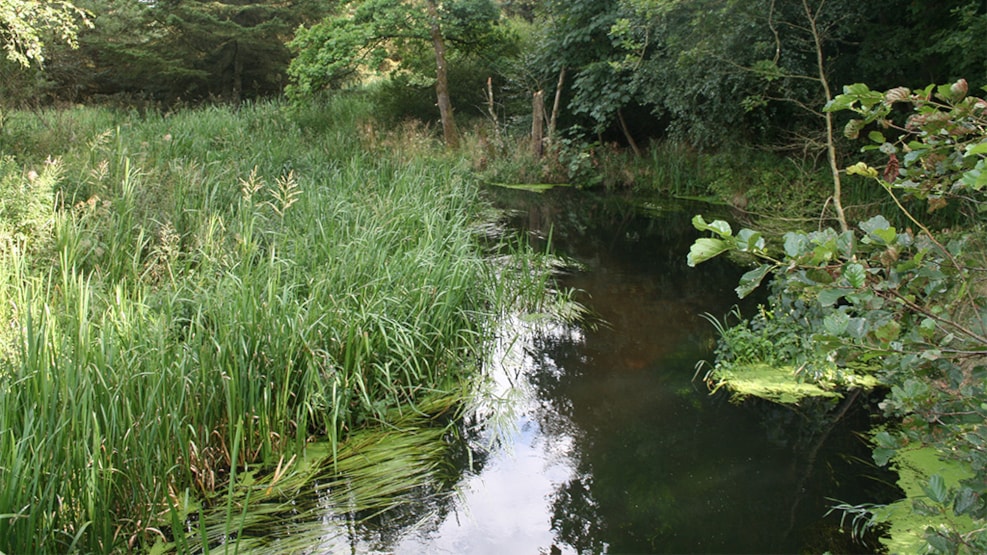 Holme Å
There are only a few locations in Denmark where you can, and it is possible to, move about in a changing and untouched nature and such a location is along the stream Holme Å.
Holme Å is situated in a landscape with high spruce plantation, broad-lived brushwood, moorland and sandy fields. The landscape is characterized by the cultivation and plantation of the moorland. Holme Å is basically not regulated and has its rise in the moor Gispel Mose near the town of Bække. At certain locations the stream is so strong that rocks and sand can be seen at the bottom of the stream. At several locations in the river valley, you can see sprints or water squeezed out at the bottom of the slopes. This is called "confined groundwater" because the ground water level above the slopes is higher than the bottom of the slope and this squeezes the water out. Another result of the phenomenon is marsh plants growing on the slopes.
A rich plant and animal life is found in and around Holme å. Along the nature trails you will find e.g. bulrush, soft rush, common reed, marsh marigold, spiraea and water avens. On the meadows you will also find water forget-me-not and small-leaved golden saxifrage. Of birds should be mentioned e.g. heron, grey wagtail, kingfisher, and water ouzel. Foxes and grass frogs can also be found in the area. In the water there are rainbow trout, river trout, roach, eel, pike and perch. Holme Å got its name from several islets – very small islands in the middle of the stream. These islets no longer exist. 
Københavnerplantager (Copenhagener plantations)
Holme Å runs through the characteristic area near the brook Baldersbæk, where the Copenhagener wholesale dealer Holger Petersen bought sandy moorland and established a large plantation with villa. From here the stream continues towards west, where it joins Varde Å near Karsgårde Sø and continues out into the Wadden Sea. 
The Beaver
In 1999, 18 beavers were set out on the Klosterheden moorlands south east of the town of Lemvig. It is said that it may be some of these beavers, which have spread to Holme Å, where the first beavers were registered in 2012. They have cut down trees close to the bridge Høllund Bro, built beaver lodges and dams. The beaver requires access to water all year. It lives near large and small streams, lakes, waterholes, and peat banks. 
Meet Holme Å here
You can walk close to the stream and its nature either on the Coast to Coast Trail or some of the local hiking routes in the town of Hovborg. The area with the green activity park of the river valley Holmeådalen is next to the stream. The stream is crossed by the Grinsted-Holsted road and continues down through the town of Hovborg.