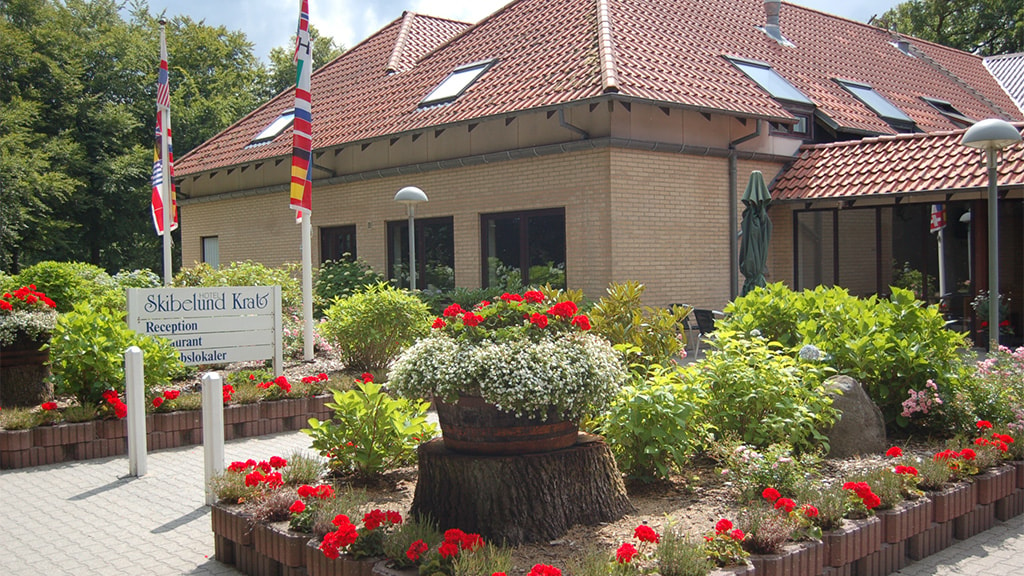 Hotel Skibelund Krat Restaurant
Restaurant Skibelund Krat is the cosy a la carte restaurant of Hotel Skibelund. The restaurant is arranged with large landscape windows giving a free view to a fantastic sight over the Kongeå Valley and the land of Southern Jutland. Viewing this, you can enjoy a well-prepared meal in peaceful surroundings. You can either sit in the restaurant in-door or in the summertime, when weather and wind allow it, on our large out-door terrace. Right next to the restaurant the unique historic monument park Skibelund Krat is situated.
Our guests experience a kind service in the cosy restaurant. Our restaurant is well-known for good cooking and plenty of food and our menu card comprises gluten-free, vegetarian and vegan dishes as well. The wall decoration in the restaurant illustrates Skibelund Krat's history and role in the period of 1864-1920 framing the national meetings and later over a longer period the celebration of the Constitution Day. 
The restaurant is located at Hotel Skibelund Krat, which is situated at the edge of the Kongeå Valley in a small beech wood. The distance to the city of Vejen from Hotel Skibelund Krat is 4.3 km. Hotel Skibelund Krat is located midway between Ribe and Kolding. The distance to E20 motorway exit no. 68, Vejen Vest: 5.7 km.
Do you serve lunch?
You can choose from our Danish traditional selection of lunch courses from 11:30-17:00.
Some of the special courses are:
'Stjerneskud' – Steamed and fried fillets of plaice with shrimps and mayonnaise, and salmon from Fanø, served on bread
'Pariserbøf' – Fried beef-tatar with raw egg yolk, onion, red beets, capers and fresh horseradish on bread
'Fynsk æggekage' – Danish version of airy omelette with bacon, mustard, red beets, chives on homemade rye bread
Where can I find Restaurant Hotel Skibelund?
Hotel Skibelund is located in a forest of beeches on the edge of Kongeådalen, which is a river valley formed by the stream 'Kongeåen'. That makes for a very special view from the hotel's restaurant. Just next to the restaurant you will find the historical monument park 'Skibelund Krat'.
Distance to 'Hærvejen' - The Ancient Road: 
Hærvejen's bike route: 0 km
Hærvejens hiking route: 0 km
Distance to 'Kongeåstien' – the hiking route along the old border to Germany:
Frihedsbroen (The Freedom Bridge): 1.2 km
Distance to the highway E20, exit 68 Vejen Vest: 5.7 km