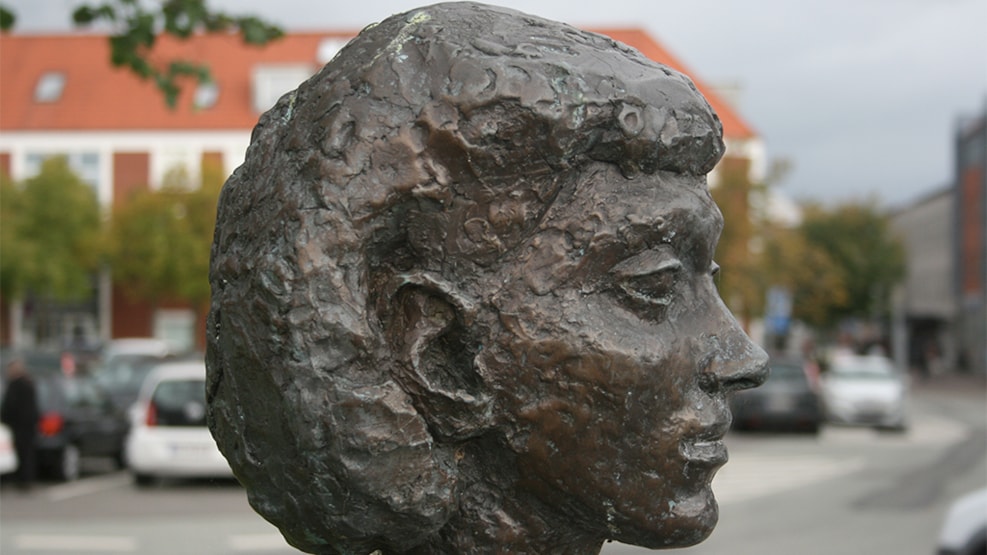 Ingrid Vang Nyman sculpture, Vejen
In front of Vejen Station is the sculpture of Ingrid Vang Nyman. There is a bronze portrait on a granite plinth on which there is an illustration of Pippi Longstocking.
Everyone knows the author Astrid Lindgren from Sweden, but few knows the name of the woman who illustrated the books.
Ingrid Vang Nymans was part of the lineage who "founded" Vejen with big factories like Alfa Margarine, Phønix Tagpap, chicory factories and the big lumberyard. After the year 2000 the family decided that her preserve parts of her artistic life's work should be part of the exhibition at Vejen Artmuseum.
At the station in Vejen there is a mighty monument for her grandfather Johannes Lauridsen – one of the most influential people in the history of Vejen. And on the graveyard at Vejen Churh you can find the family gravestones. Some of those are made by the local artist Niels Hansen Jacobsen. This is also where you can find the grave of Ingrid Vang Nyman.