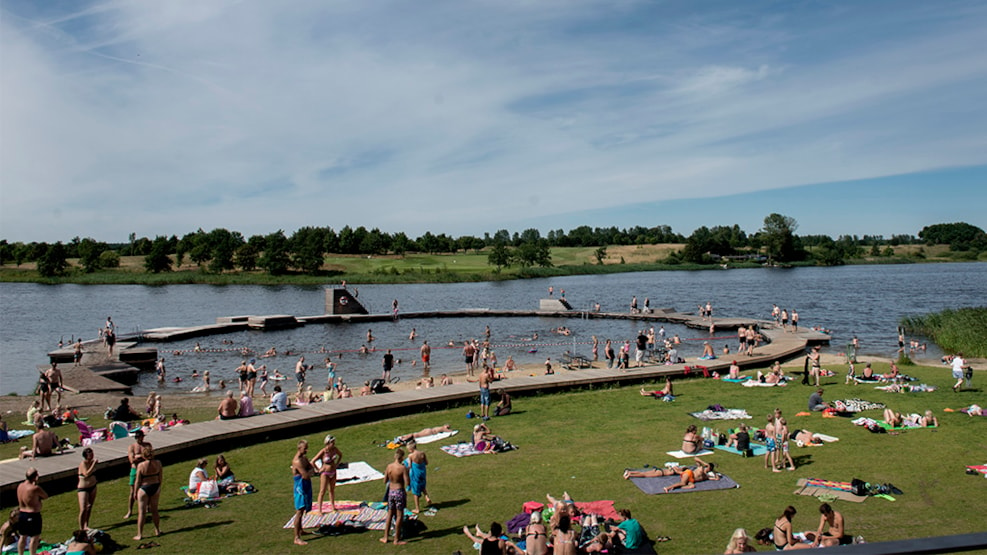 Jels Søbad
Jels Søbad, the bathing area at the lake in Jels, is situated on the edge of Jels Nedersø where you may find Denmark's most beautiful surroundings for a swim.
When the water temperature is acceptable, it is possible to swim in freshwater with a view to a Danish beech forest and a charming town along the edge of the lake. The bathing jetty allows for all types of water play – for those who dare to jump into deep water and for small children who just want to paddle and play in the sand pit. The facilities at Jels Søbad are free of charge.
The new buildings also include modern changing rooms for the visitors and a newly constructed bathing jetty creating a children's area, an area for calm swimming and an area for divers. The old buildings were in a state of disrepair after approximately 70 years and, therefore, replaced by new buildings creating a place for activities and gathering in the open. The project was implemented in a co-operation between Jels Lokalråd, a local board on voluntary basis, and Vejen Kommune, the municipality, and opened in June 2014.
Life guard and safety
The water quality is controlled regularly – the water of the lake complies with current rules and limit values. Since 2015 Jels Søbad has been awarded with the Blue Flag stating that bathing water quality, swimming safety and all facilities comply with current rules and regulations.