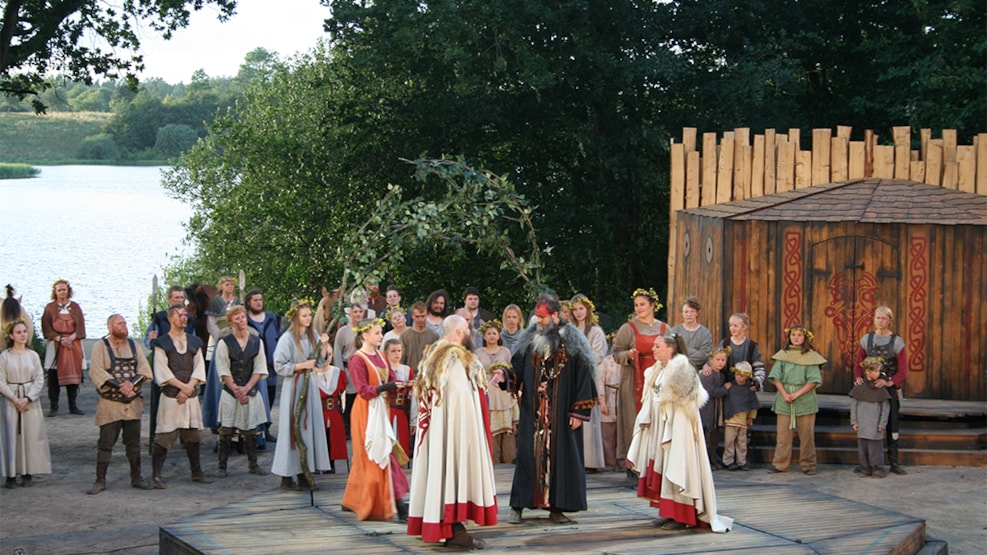 Jels Vikingpageant
Burning romance, formidable fencing battles and colorful scenes performed by hundreds of voluntary players create a unique experience at Jels Vikingpageant (Vikingespillet in Jels) every summer. The high trees around the open-air scene and Jels Nedersø – one of the three lakes – in the background forms a very special stage for the play having taken place since 1976. The plays are based on Scandinavian history and presented with modern effects. Vikingespillet is also for children.
All actors and stage technicians are amateurs spending their spare time on practicing the play of the year. The staff of professionals among others include David Owe, producer and fencing teacher.
Skjoldboden
At the entrance to the annual Viking pageant, Jels Vikingspil, you find Skjoldboden, a store selling Viking inspired toys, handicrafts, ceramics, clothing and Jels Vikingespil merchandise.