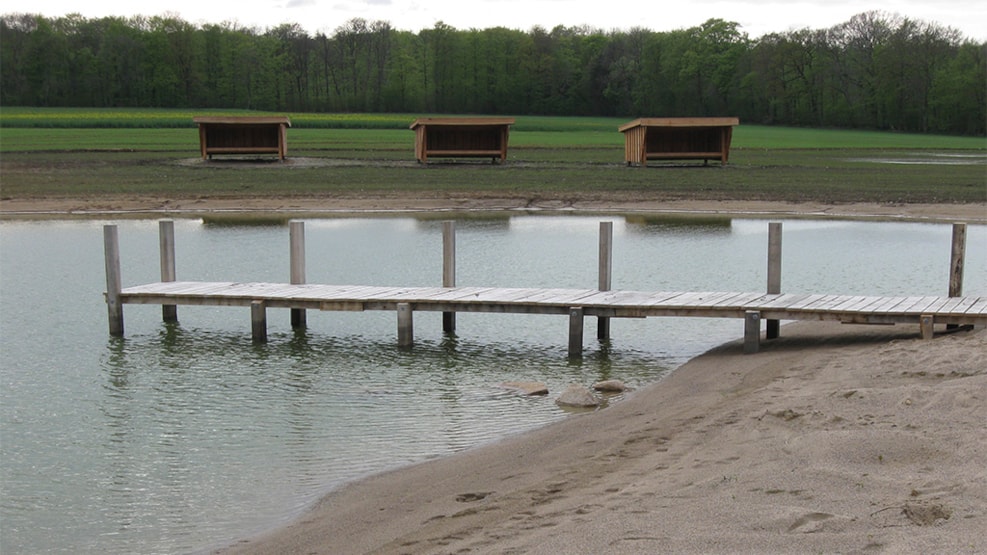 Københoved Skov, woodland shelters
The forest of Københoved Skov features a nature camp with two large shelters offering lakeside views. Here you can wake up to birdsong and look a deer in the eye when you head out for your morning dip in the lake. Your only companion will be a frog or two.
The camp is surrounded by deciduous forest, yet open. You can either pitch your own tent or rent one of our shelters. For larger groups there is also the option of sleeping in a tipi, which offers good shelter.
There is access to a disabled toilet and shower. The woods of Københoved Skov are located around 2 km west of Københoved and the cycling route of the Ancient Road.
If you are travelling with horses, we also offer a paddock with lush green grass and access to drinking water. You must provide other feed yourself. The paddock is located just opposite our farmhouse and costs DKK 90 per night per horse.
Københoved Skov is a large ancient woodland known for its birds of pray, such as goshawks and buzzards. There are several marked trails in the area around the woodland accommodations, allowing you to experience the beautiful scenery close-up.
Distance
Hiking route The Ancient Road Hærvejen 4,6 km
Cycling route The Ancient Road Hærvejen 2 km