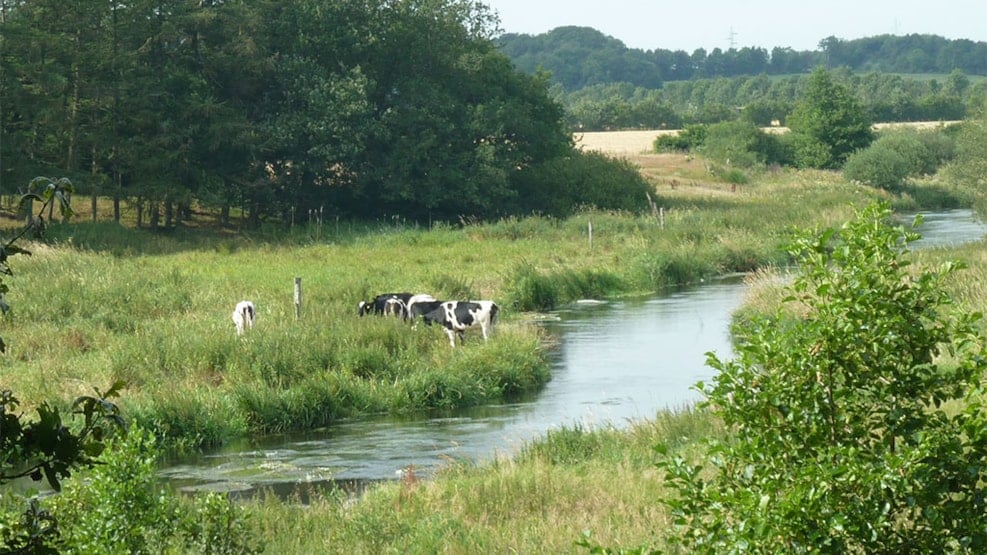 Kongeåen, the historical border
The river of Kongeåen meanders through the wide river valley of Kongeådalen, which it has done since the last Ice Age. During important periods in Danish history, the river has also marked the border to Prussia/Germany, so although the river seems peaceful today, it has a dramatic story to tell.
Until 1850, the river marked the toll border between the Kingdom of Denmark and the Duchy of Schleswig, which was under Danish rule. Here toll had to be paid by cattle drovers heading south. At the Battle of Dybbøl in 1864 (The Second Schleswig War), Denmark lost the Duchy of Schleswig to the Prussian Empire, which later became Germany. Following the war, the river marked the border between the two countries. The northern part of the Duchy of Schleswig, which we today know as Southern Jutland, was reunified with Denmark after a popular vote in 1920.
The headsprings of Kongeåen
The river of Kongeåen has its natural source in many small headsprings scattered over a large area between Vejen and Vamdrup. In Gamst Søenge you can actually see one of the numerous headsprings. The approximately 60-km river flows west to the estuary of Gredstedbro by the Wadden Sea following is original course, which has never been changed by man. Kongeåen and the river valley of Kongeådalen are protected areas of natural beauty. 
The name Kongeåen
The name of Kongeåen (The King's River) was first used around 1700. Previously, it was called Skodborg Å, or using old spelling Skotborg Å. In olden days, the word "skot" meant "tax/toll" so there is no doubt that revenue collected by the river were a considerable source of income for a very long period of history.
In the old sagas the short form of the name is used: "Åen" (The river). This indicates that the river was quite well known in early historic times. We find reference to this today in the expression: "Sønden for Åen" (South of the river).
Distance
Hiking route The Ancient Road Hærvejen 0 km
Cycling route The Ancient Road Hærvejen 0 km