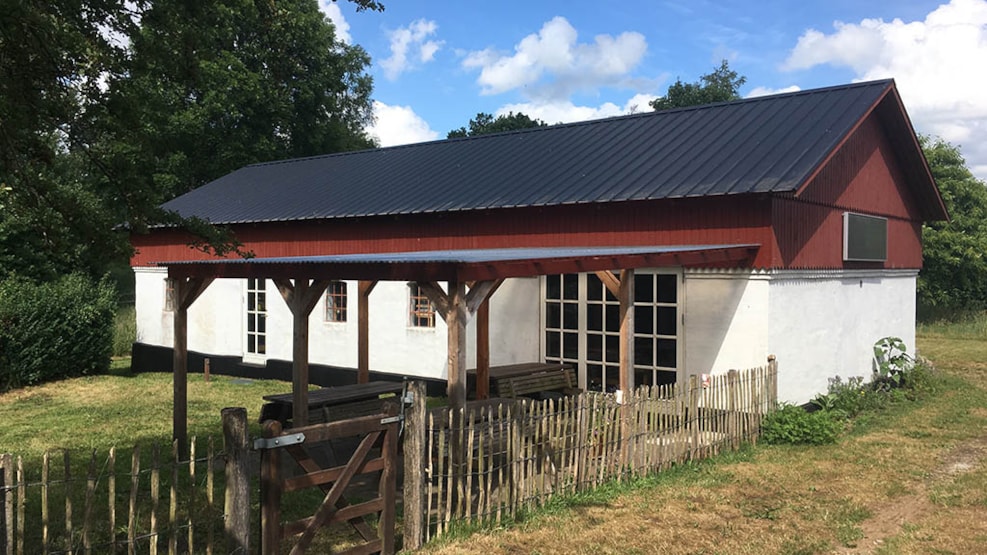 Kongeåen Hostel
The Kongeåen Hostel (Herberg Kongeåen) is scenically and beautifully located just south of the Ancient Road by the meandering river of Kongeåen between the hostels of Ølgaard and Ellegaard, which are located along the route between Vejen and Københoved. 
The modern hostel of Herberg Kongeåen is housed in an old stable belonging to an idyllic property from 1897.
Facilities
The hostel dormitory has 24 bunk beds, a kitchen, two bathrooms and two toilets. The amenities are located in a separate building, which was fully refurbished in 2010.
You can purchase breakfast and frozen meals from the host. The common lounge area offers information on attractions along the Ancient Road in the area, in north as well as southbound directions.
Evenings can be enjoyed in the richness of nature by the hostel where there has for many years been nature restoration initiatives, which has resulted in many different kinds of trees and many birds. Or you can take a walk to the Freedom Bridge (Frihedsbroen) and the Freedom House (Frihedshuset), which both tell the story of the time when the area south of Kongeåen was a remote province in the far north of Prussia.
The host at the hostel is a nature lover, local firebrand and devoted angler, so there are many good stories to share.

The rate for stays at the hostel is DKK 150 per person per night.
About the hostels
The hostels are accommodations for those travelling along the Ancient Road either by foot, bicycle or horseback. Here you will find a bed, a toilet / bath and the opportunity to warm a readymade meal. The low price of accommodation at the hostels is facilitated by the fact that guests contribute to keeping the places clean and tidy up before leaving the premises. No advance reservations can be made. All the hostels offer to stamp your hostel brochure as proof of your stay.
Horses
At the hostel there are pens/paddocks and water troughs for horses. Feed must be provided by the traveller. The fee is DKK 100 per horse per night. If you require accommodation for horses, please notify us by email in advance.
Contact
Please contact the host at the hostel (Herberg Kongeåen) by email.  
Distance
Hiking route The Ancient Road Hærvejen 0 km
Cycling route The Ancient Road Hærvejen 0,5 km