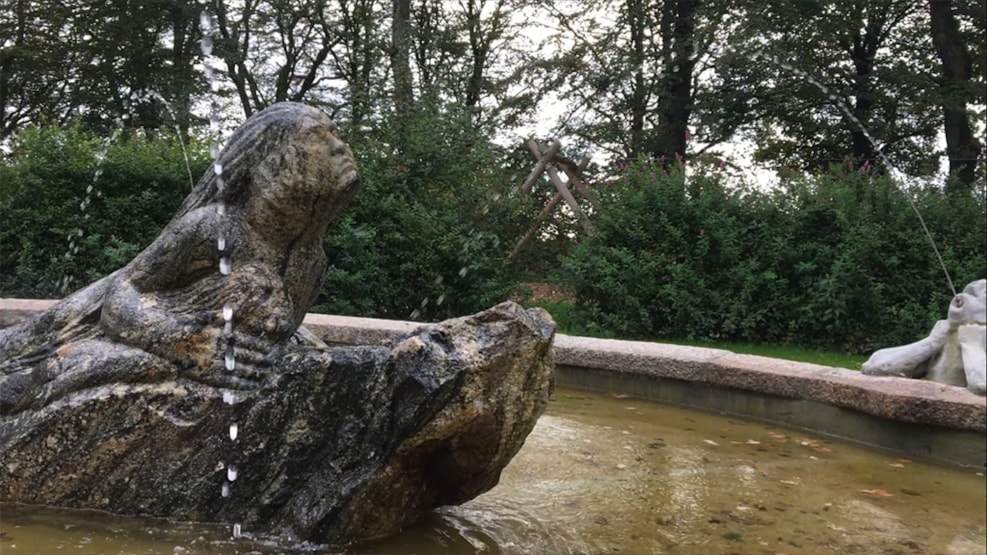 The Mermaid Fountain in Bække
The public park in Bække features a mermaid fountain, Havfruespringvandet, which is one of sculptor Niels Hansen Jacobsen's finest works in granite. Launching herself off a cliff, the mermaid is carrying a mermaid child under each arm. Notice that the male and female trolls surrounding the pool each have their own distinct features!
The sculpture group was created in 1920 as a commissioned fountain for the town square in Svendborg, Funen. However, the sculpture did not find favour with the local council and was subsequently not erected. In 1928, the mermaid fountain was erected in a garden in Vodskov together with a custom-made basin where four small trolls would spit jets of water on the mermaids. Later, the fountain was dismantled and was moved to a deposit in Vejen from where it was taken in 1977 and given its current location in the village park in Bække.  
Distance
Hiking route The Ancient Road Hærvejen 0 km
Cycling route The Ancient Road Hærvejen 0 km