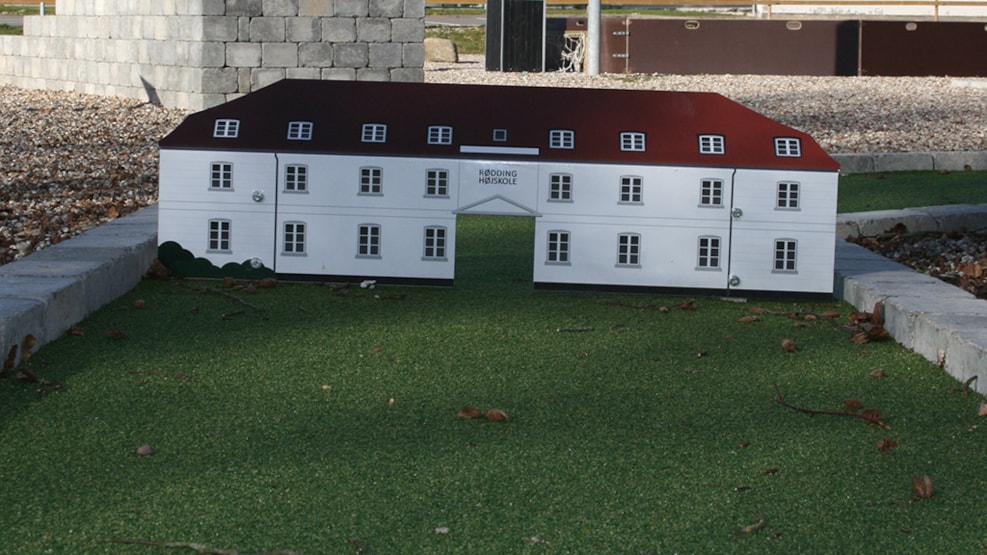 Minigolf cource at Rødding Centret
An 18-hole minigolf course at the Rødding Centre offers many challenges and is at the difficult end of the scale. If you are game, then you are sure to get entertainment for the money and a cosy outdoor activity together.
Minigolf is an activity in which everybody can take part – irrespective of level. 
On the minigolf course in Rødding, signs are set up next to all holes as a little extra on which you can read a little history about places and companies in the city, because the course is sponsored by local sponsors. Rødding is the city where the first folk high school was established.
Close to the minigolf course there are good outdoor locations such as a lunch cottage and table and bench sets. You can bring your own food or buy it at the Café in the Rødding Centre.
Practical information:
You buy your ticket at the Information or in the Café Goma in the Rødding Centre. The price is DKK 50.00 per person irrespective of age.
If you wish to book the course outside opening hours of the centre, write an email to post@rcentret.dk with information about the number of persons you will be, expected time of arrival. The Rødding Centre sends a mail to you with the code for a storage locker, which is located outside to the right of the main entrance of the Rødding Centre. Here is all gear, hand disinfectant, etc. So, it is possible to play minigolf outside opening hours of the centre.
Rules
The player with lowest number of strokes winds the game. Each stroke counts. If the ball falls outside the course, you get a penalty stroke. If the ball is impossible to play, it can be moved 5 cm forward in a straight angle. Max. 8 strokes. If you do not get the ball in hole with 8 strokes, the hole counts as 10 on the score card. The courses should be played in correct number order. You cannot replay.
Please stay OFF the courses!