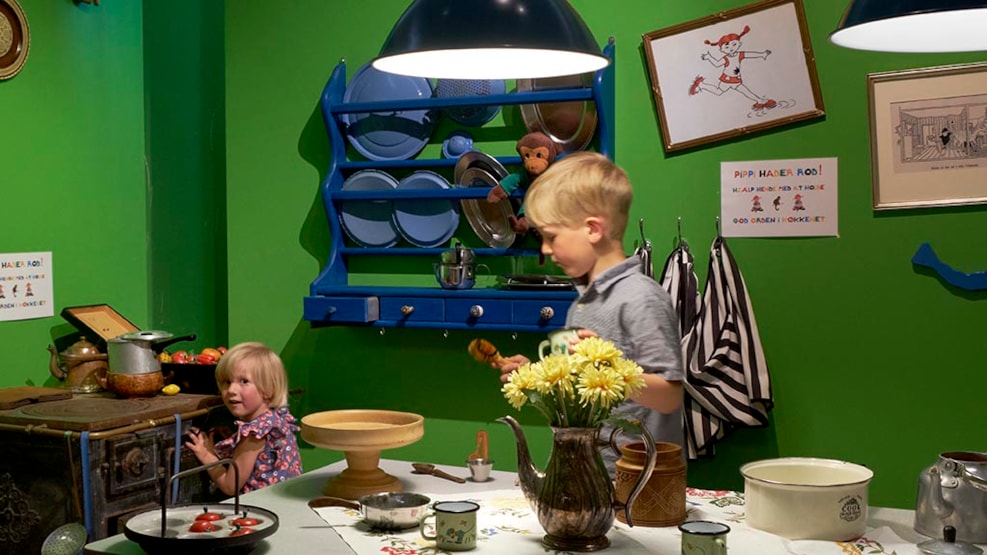 Pippi Longstocking at Vejen Art Museum
At Vejen Art Museum the gates are open to an Ingrid Vang Nyman play landscape, where you can play like Pippi did. Ingrid Vang Nyman illustrated the immortal books of Astrid Lindgren, and Ingrid was Danish and came from Vejen. In 2016 she was born 100 years ago. This is why you can find a special Pippi experience landscape at Vejen Art Museum inspired by the Pippi books and especially the drawings of Ingrid Vang Nyman. Ingrid was herself a hot-tempered and headstrong child so she may have used her own childhood memories for her illustrations of Astrid Lindgren's stories.
The experience landscape has 4 corners:
Move in with Pippi and play in the kitchen, sit down on terrace of Villa Villekulla or see if you can find Mr. Nilsson. Go exploring – he is where the latest guest put him... He is a fine soft plush monkey with the characteristic green clothing
Visit Ingrid Vang Nyman's apartment in Stockholm from the mid-forties
Walk over the bridge to the Japanese tea pavilion. Here you can dress in a genuine Japanese kimono and sense the culture which inspired Ingrid Vang Nyman
Play in Pippi's garden and catch octopuses and fish in the lake. At the lake side you can enter a small boat "Sofie", from which you can, as Pippi did, catch octopuses and fish in the "stream" or you can ride Pippi's horse. Pippi's black-spotted horse is made in real large-pony-size. This means 150 cm tall over the back, and you can ride it. The Swedish image carver Dag Malmberg has cut the horse in wood, and the Swedish name of the horse is "Lill Gubban", a name it actually got in connection with the television recordings in 1969, because in the books it is only called "the horse".
Playing and staying in the experience landscape is at your own responsibility.