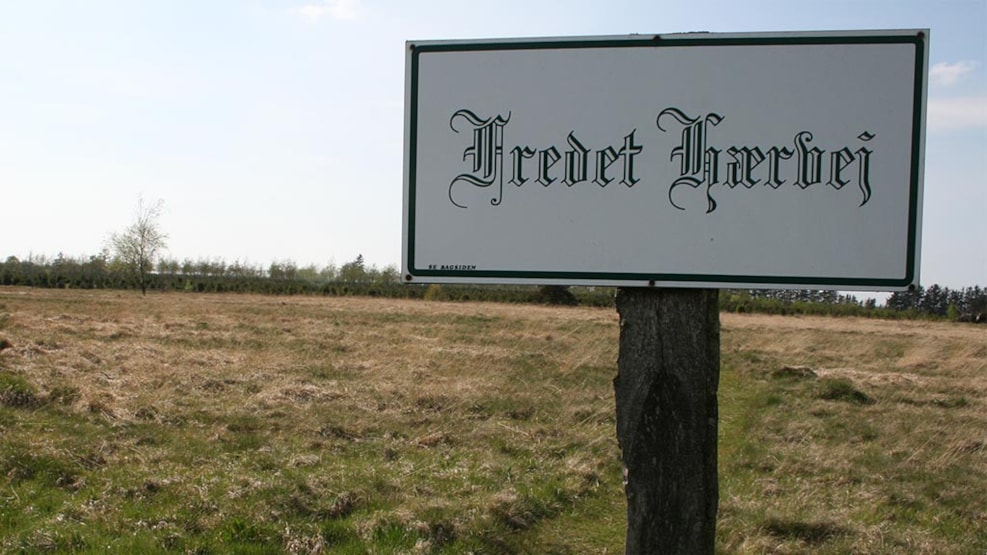 A preserved section of the Ancient Road, Bække
Just north of the village of Bække, by the parking lot west of the Ribe-to-Vejle road, you find a very authentic section of the Ancient Road. Here you can still see how the road originally cut through the open landscape.
The Ancient Road was not constructed; it simply emerged where travellers could most easily traverse the landscape. And when a track became too worn down, the traffic would simply follow a new set of tracks right next to the old ones. At this location by Bække, the Ancient Road was around 90 meters wide.
The Ancient Road, a Jutland thoroughfare reaching from Viborg to Schleswig, has many Danish names: Hærvejen (literally the Army Road), Studevejen (The Steer Road), Pilgrimsvejen (The Pilgrim Road). The road was primarily a droving road where cattle, which had been fattened on the lush meadows of East Jutland, were herded to market in north Germany. Pious pilgrims have also used the southbound Ancient Road. Today, the Coast-to-Coast Route, which is a hiking trail, crosses the hiking and cycling routes of the Ancient Road by Bække. So to follow the coast-bound trail you need to take a detour from the Ancient Road.
Conservation
This authentic piece of the Ancient Road by Bække was heritage listed in 1927. A local landowner donated the land for preservation so that we today can still experience what the road originally looked like, 1,000 years after the first waggon wheels cut their way through the landscape.
Distance
Hiking route The Ancient Road Hærvejen 2,3 km
Cycling route The Ancient Road Hærvejen 2,3 km