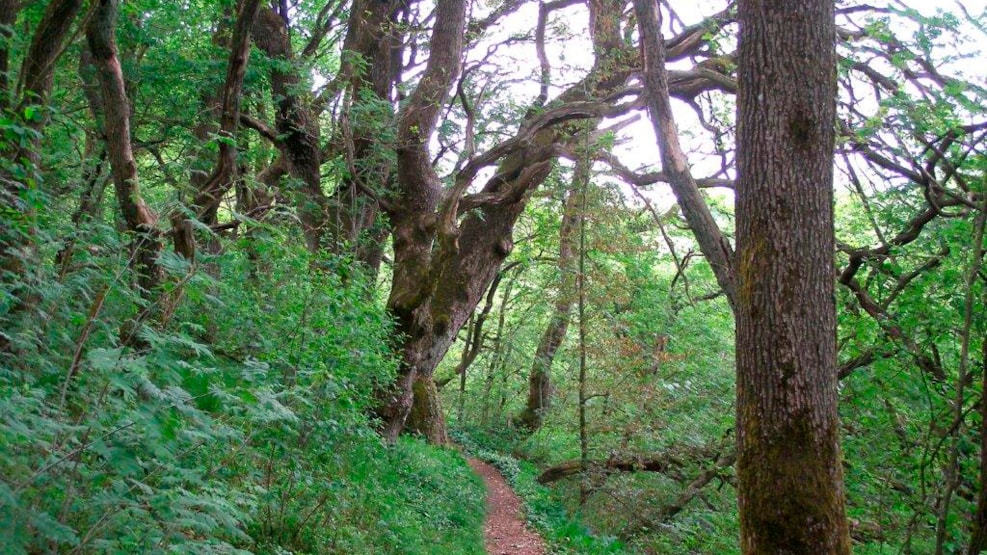 Quality trail, Baldersbæk, Hovborg
The quality trail near Baldersbæk is a 4.4 km long hiking route certified by Dansk Vandrelaug (the Danish Hiker Association).
Baldersbæk is situated a few kilometres west of Hovhorg between Billund and Holsted. The trail leads through varying nature and offers interesting culture history about the Copenhagener plantations on the heaths of Jutland. The trail crosses forest area, which is more variated than most of the plantations of Western Jutland. Birch and sections with oak underwood can be found here. The Oak underwood got its crooked appearance from cutting in earlier times.
The route passes through widely varying nature – forest, moorland, heath, as well as meadows.  On the route you pass the garden of Baldersbæk and the lakes which were originally carp ponds and the Treherredstenen (Stone of Three Districts) which marks the spot where three districts meet. Today the spot where the municipality borders of Vejen, Varde and Billund meet.
On a quality hiking trail certified by Dansk Vandrelaug, you are sure to have a good hiking experience. The hiking routes are circular tours which are all situated in nature, in quiet surroundings and with interesting nature or culture history. Varying landscapes and intimacy with nature are important qualities. 
The history
Baldersbæk Plantage (the plantation) is the biggest of the Københavnerplantager in the area of Hovborg. In the year of 1900, approximately, wealthy Copenhageners together with Hedeselskabet (an association with the status of a business foundation) landscaped a number of plantations on the Jutlandic heath. Their motives were to make an effort for their mother country, to create jobs and to change cultural landscape – and, finally, to get a number of amenity values for themselves. Baldersbæk was landscaped by merchant Holger Petersen who invested both money and energy in the planting of the heath around Hovborg. In the year of 1891 he bought a decayed heath farm and 625 "tønder" (about 850 acres) of land. Here he landscaped Baldersbæk Plantage and built Villa Baldersbæk and in the year of 1910 the gardens and the natural grounds were planned.
The plantation is more varied than most other West Jutlandic plantations. You find quite a lot of birch trees as well as stretches of oaks. The oaks have become twisted due to trimming in earlier days.
Practical information:
Parking on the parking space on Baldersbækvej opposite the gardens. Here you find tables and benches and information boards. The marked path starts here. The area is well-provided with boards with QR codes enabling you to gather more information by your smartphone. There is special information for children.