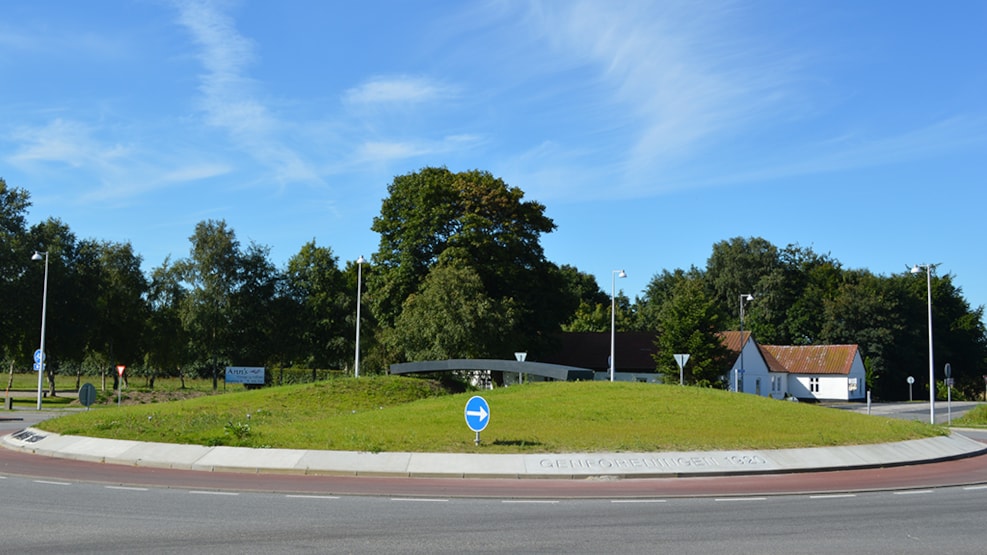 Reunion monument
Where the ancient road, today called road 32, is crossing road 403 between Vejen and Jels – in the roundabout at Skodborghus – a reunion monument has been erected in the centre of the roundabout.
The roundabout is located a few hundred meters from the Kongeåen, which has in several historical periods been customs and state border. Latest from 1864 until 1920, in which period the Duchy of Slesvig, of which North Slesvig is the northern part, came under Prussian control up to the Reunion in 1920.
The centre of the roundabout is shaped so that it resembles the Kongeåen and its brooksides as well as a bridge element, which symbolizes that the two sides are reaching out to each other and together they form a bridge. In the kerbstones of the centre island the text 'Genforeningen 1920' [Reunion 1920] is engraved. The story is emphasized by blue herbs in the Kongeåen and lighting on the bridge and light bluish lighting in the 'stream'.