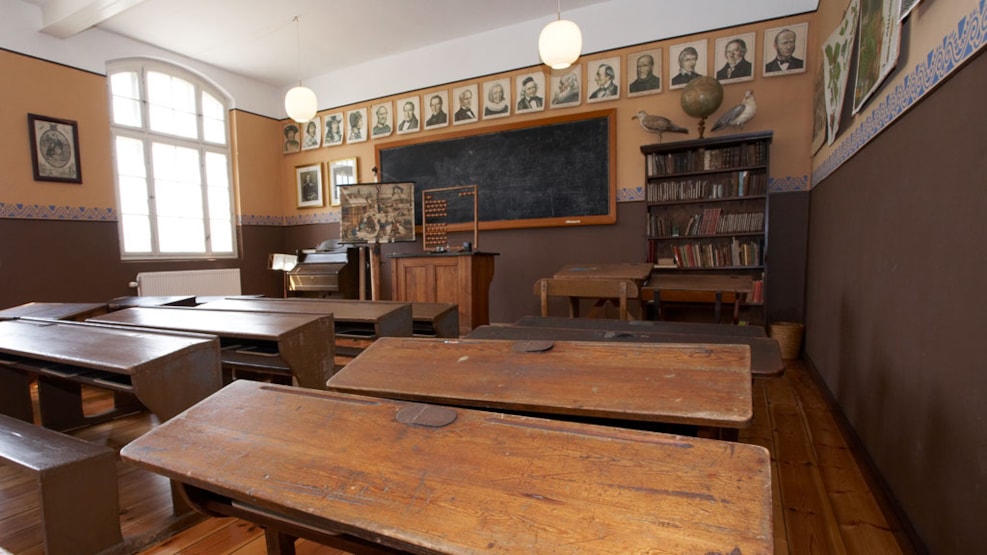 School museum of Southern Jutland
In a collaboration with Museet på Sønderborg Slot, the story of the Southern Jutlandic school comes to life – in its own school building - Over Lerte old school. 
The school consists of a village school from 1856 and an extension dating to 1907. 
The classroom from 1907 focuses upon the period of the reunion of North Slesvig with Denmark between 1920 and 1945.
The classroom contains school furniture from the early 20th century; the earliest school furniture and the blackboard dates to before the reunion in 1920, that is the German period, and the more recent furnishings to the 1950s. The large blackboard was erected after the unification and bears traces of several decades of use. None of the school furniture originates from Over Lerte school, but has been donated from elsewhere in Southern Jutland, as well as from the museum at Sønderborg Castle. 
In the 1930s the classroom would have contained over 50 children.
The classroom's walls are decorated with an attractive blue frieze, small fragments of which appeared during the restoration, and above it hang picture boards for subjects including history, geography and natural history. In "the corner" for badly behaved children are pictures from the bible!
Two old cabinets with glass panes contain stuffed animals, teaching materials for physics and small book sets for various subjects.   
3 information boards in the museum's entrance hall tell you about 3 important periods in Southern Jutlandic and Danish school history, and 3 display cases contain examples of both German and Danish teaching material and pupils' work, the oldest being an arithmetic book from 1799. Here you can also see writing, dictation and exercise books, as well as art work and needlework from the 1890s until 1945.
2 curricula show how the teacher planned the teaching of the children, one dating to 1872 and another to 1909, in other words the German period. The old school photographs show serious, disciplined children and strict-looking teachers, but there are smiles in the more recent pictures.