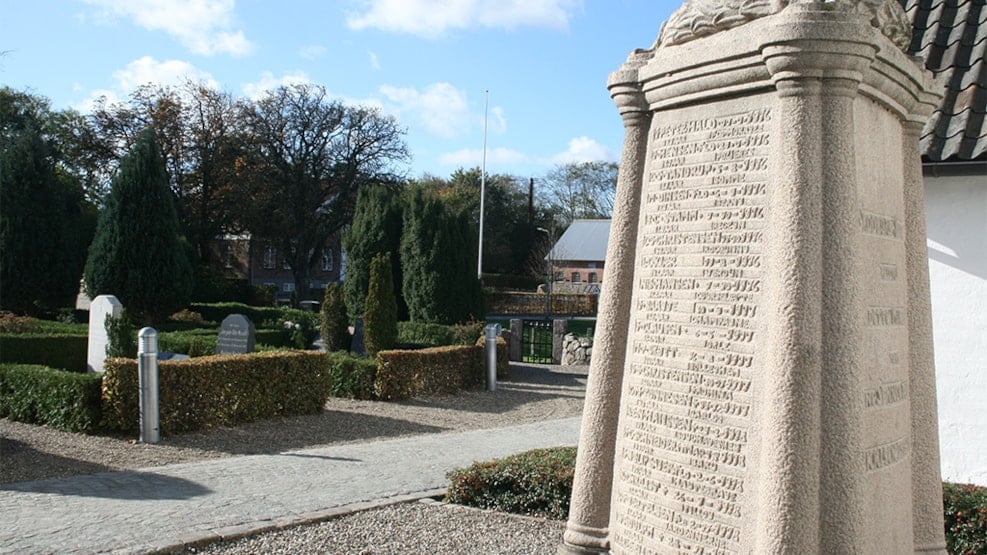 Skodborg Church
On a small hillock to the west of the town of Skodborg you find the whitewashed Skodborg Church.
Skodborg Church consists of a Romanesque nave with late Gothic chancel as well as a southern porch and transept from 1858-59. Ashlar granite was used on the corners and around the doors and windows of the nave. The church features a mixture of roofing made of lead, slate and tile.

In the late Gothic period, the apse was replaced by a prolongation of the chancel. The current chancel is constructed using large bricks and with a distinctive gable with cross-shaped recesses, a feature which is accompanied by four small circular recesses that are placed over five arched high recesses.

During the reconstruction of the church in 1858-59, the current dominant transept was constructed inspired by the late Romanesque style. And raised above the cross section of the roof is a slate ridge turret featuring a spire with eight pointed gables.
The Romanesque granite baptismal font is very particular, but unfortunately also somewhat distorted due to heavy-handed masonry work in 1922. Three robed figures dance around the festooned baptismal bowl. The altarpiece is a Renaissance piece from 1610.
Distance
Hiking route The Ancient Road Hærvejen 2 km
Cycling route The Ancient Road Hærvejen 2,8 km