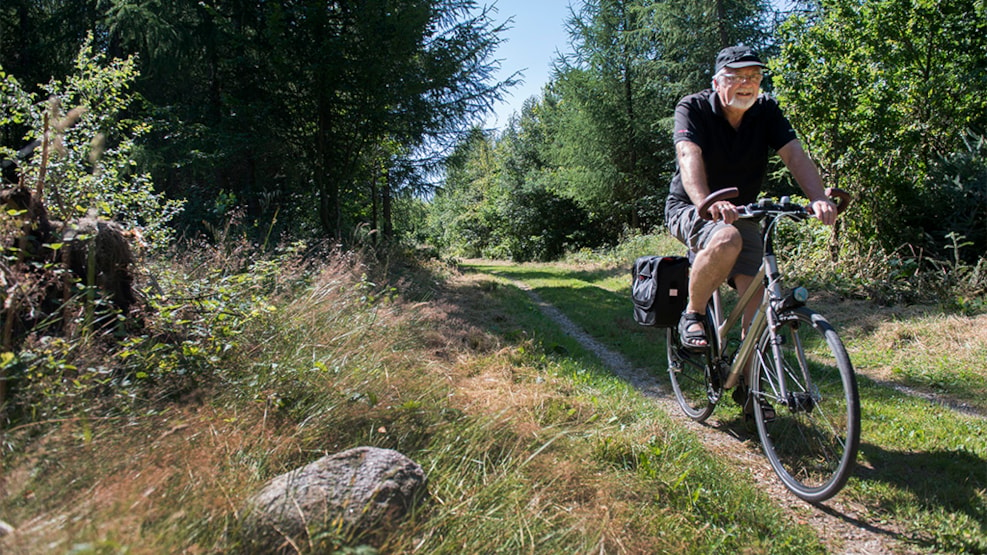 Stursbøl Plantage, the Ancient Road
Stursbøl Plantage is a woodland of 275 hectares located on the Jutland ridge, the Ice Age glacial rim where wayfarers have travelled for millennia along the Ancient Road without having to cross streams. So there is plenty of history to discover for those hiking or biking through the woods.
In the heyday of the Ancient Road the area was a large heathland, comprising Oksenvad Hede and Stursbøl Hede. The area was a flat and open landscape that lent itself to demonstrative displays of power in the form of prehistoric barrows. Stursbøl Plantage features more than 70 barrows, which were saved from destruction in the early 1800s by the forestation programs. The original Ancient Road followed different paths across the heathland. Whether you arrive from the south or north, you will come across the barrows shortly after entering the shade and shadow of the woodland.
By the southern fringe of the woods there is an open area next to the Ancient Road that features the vestiges of a brick well. The flora shows signs of an old garden and it is believed to be a former gathering and celebration space from approximately 1845. Perhaps the site was also used by the military.
Stursbøl Plantage was one of the first forests to be created on the Jutland heathland as the result of forestation initiatives in the early 1800s when the struggle to turn these sandy soils into forest first started. The climate and soil made these early attempts a challenge but much was gained in the form of experience that could be put to use during the major forestation efforts implemented after 1864. The forest was planted during the years when the area south of Jels was under Prussian rule (a period locally known as udlændigetiden). This is evident today by the long, straight forest roads.
The forest vegetation is today very varied. After the 1999 hurricane toppled 80 percent of the trees in the wood, the vegetation has been changed from primarily spruce to a solid mixture of different kinds of trees. Individual trees that survived the hurricane provide habitats for insects and birds.
Where the Ancient Road enters to the north of the woodland there is a large recreational area 300 meters south along Klovtoftevej where you find tables and benches under the shade of old deciduous trees.
Distance
Hiking route The Ancient Road Hærvejen 0 km
Cycling route The Ancient Road Hærvejen 0 km