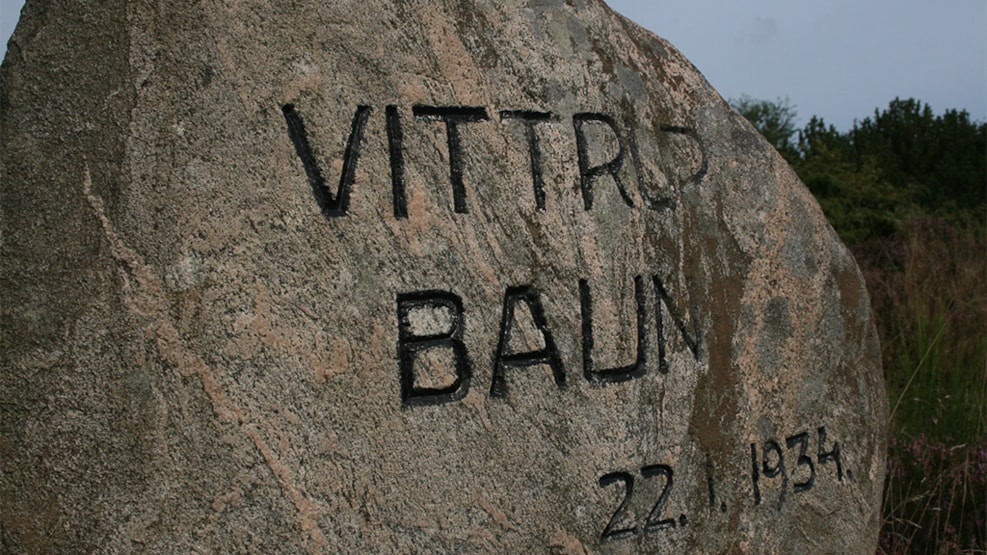 Vittrup Baun, Bække
A hillscape reaching 101 meters in height, Vittrup Baun towers over the flatlands west of Bække. The hills are an area of natural beauty with a number of ancient heritage sites, which is why the area is a true gem for those travelling along the Ancient Road.
Vittrup Baun is a privately owned landscape of rolling heathland and woodland. The 13-hectares are owned and cared for by a cooperative of landowners. Every year, when the heather blooms, the cooperative holds its annual assembly on the hills.
There are information boards. The small hiking trail around the hills is marked with yellow.

History
Baunehøje was in olden days used for long distance communication. When villagers needed to bring people together, large bonfires were lit on the hills. This was a custom right up until 1840.
On the hills you will also see small postaments of concrete, which along with a network of 330 other such stones are used for land survey.
German Occupation
During WWII occupation, the German army used the hills as a lookout and listening post. During the first years of occupation, the soldiers lived in tents but later barracks were built. Their equipment was protected by trenches and barbed wire and even landmines. In the eastern part of the hills you can still see the tracks from this period. 
Campsite at Klebæk - Bække
Close to the great Hamborggård Rock you find the KFUM-Scout's cabin, Klebækhytte. Adjacent to the cabin there is a camping site for hikers and cyclists.
One of the cabins has a toilet, thus offering access to water. There is a campfire place and tables / benches. There are no shelters by this area.
The campsite is located next to the Ancient Road as well as the Coast-to-Coast Route and is open for visitors from Palm Sunday to the autumn holiday break in October.
Distance
Hiking route The Ancient Road Hærvejen 5 km (Asbo)
Cycling route The Ancient Road Hærvejen 5 km (Asbo)