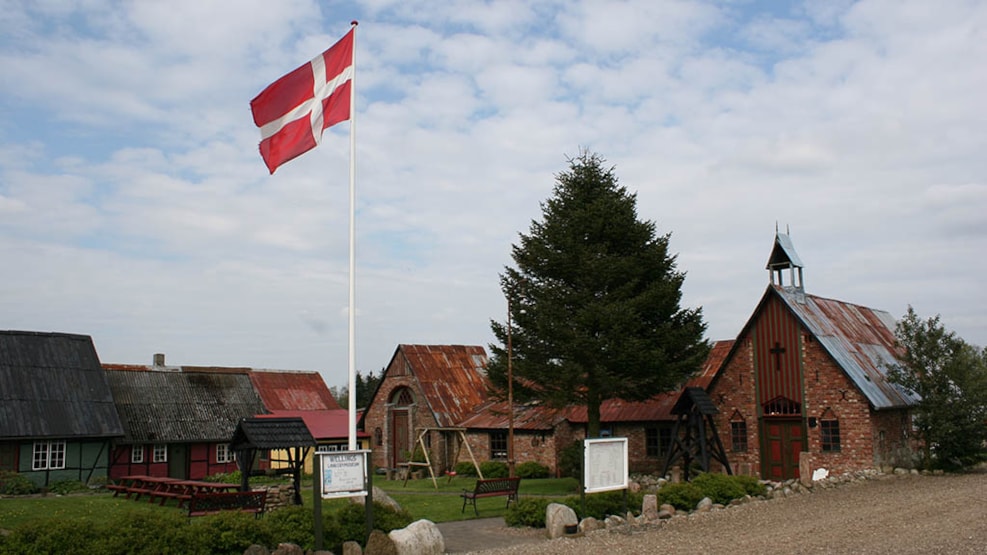 Wellings Landsbymuseum
Denmark's museum with a character of its own: The artist and collector, Søren Welling, has created his own mini society from around year 1900. Today, you will get a unique insight in your grand parents' and great grandparents' daily day life. 
Wellings Landsbymuseum (village museum) is the village that Søren Welling built. Here are houses with sitting rooms from the Victorian age, classroom with the old benches, the village church with altarpiece, which consists of large, glazed tiles with biblical motives from 1696, which he found used for a wood stove and many other things. The larger part is created by means of recycled materials and Søren Welling was ahead of his time with his approach to upcycling. 

Welling's village is not only buildings. The many activities to be taken care of in the homes and in the village can still be experienced. The collection is impressive and indeed worth seeing – especially by more generations together. Apart from all the buildings, there is a collection of tools used by e.g., beekeepers, shoemakers, and roofers. Try to find the movable washing machine which make the work of housewives easier. 
Today Wellings Landsbymuseum is driven by a group of voluntary local committed persons. The idea of the museum is that we, as visitors, learn about our near past, and that it is allowed to touch the exhibited items – especially if you are careful. 
If you are a large group, coffee, bons, Victoria sponge and Danish open sandwiches can be arranged, but only to order. 
It is allowed to enjoy your packed lunch both in the tap room and outside. 
Practical information:
At Wellings' they like all guests, children and demented, couch parties and people just out for a ride. Two walkers are available to borrow. And from experience, they know that you can come around in a wheelchair. If your baby is with you, there is a changing table.